Archive for the 'Burnaby' Category
Wednesday, July 23rd, 2014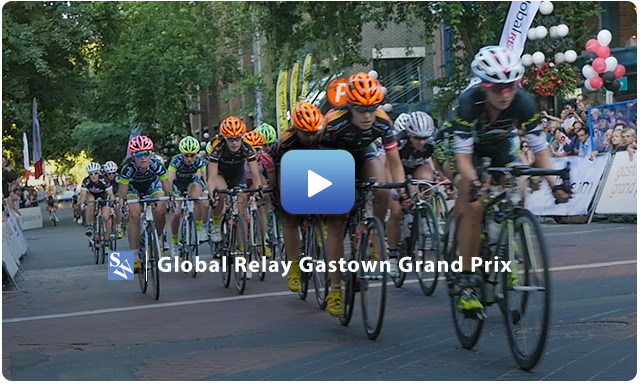 SW Returns to the historic Gastown neighbourhood in Vancouver Canada for the Global Relay Gastown Grand Prix
The Gastown Grand Prix (GGP) is a prestigious Canadian Pro 1/2 criterium bicycle race with a long and rich history. Many great names in North American cycling have raced in this important event over the years, spurring the Gastown Grand Prix on to becoming one of the most popular one-day bike races in North America.  For one day, the charming cobblestone streets of Gastown are transformed into one of the fastest, best-loved and most challenging cycling race courses and SW Audio Visual is there to capture the action live for webcast and for audience viewing on a large outdoor LED screen.
SW Audio Visual delivers a live to web and screen 5-camera broadcast produced from our live broadcast production trailer; complete with slow motion replay, video rolls and live-keyed graphics.  Additional SW Audio Visual supplies the staging, outdoor LED screen, distributed audio around the race course, VIP area screens for watching the race as well as technical and event support throughout the day.  SW is proud to be part of such a prestigious event and look forward to the next Global Relay Gastown Grand Prix.
Posted in Audio Visual Event Services, Big Screens, Burnaby, Creative Media Production, LCD Monitors, LED Big Screens, Lighting, mobile, outdoor big screens, pa sound, Sound, Sports, staging, Televisions, Video Players & DVD Players, Temporary Power and Electrical, temporary power systems, Vancouver, Video and Broadcast Support, Video Broadcast Equipment, Web Casting | No Comments »
Wednesday, May 9th, 2012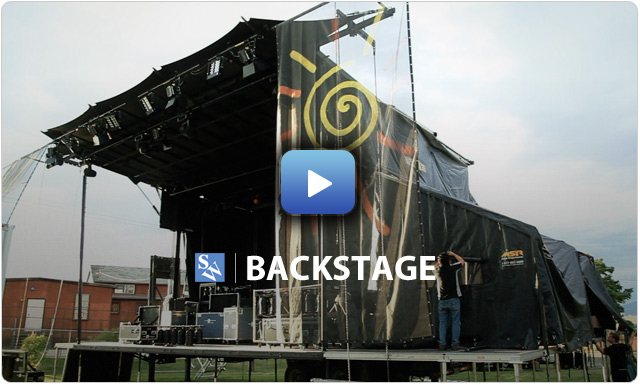 SW Audio Visual provides world class mobile staging solutions for community events, festivals and concerts throughout British Columbia.
Available in sizes including the SL100, SL250/255 and the SL320 the systems pull behind a truck and quickly deploy into a world class covered stage engineered to withstands winds of up to 90mph. SW Mobile stage solutions are designed and manufactured by Stageline Systems. SW staff are factory trained to safely and confidently install your stage in minimal time. If you have a public event and need a safe, professional stage solution that sets up quickly and looks great call us at SW Audio Visual to request a quote.
Posted in Audio Visual Event Services, Burnaby, Concerts, Conference, Kelowna, mobile, Richmond, Salmon Arm, Stage Installation, staging, Staging Design, Temporary Power and Electrical, Vancouver, Vancouver Hyatt, Vancouver Island, Vernon, Victoria | No Comments »
Wednesday, August 1st, 2007
The FIFA U-20 World Cup was the largest single sporting event ever staged in Canada with tickets sales eclipsing 1 million over the 2 weeks of the Tournament held in 6 Canadian Cities.
SW was selected as supplier to the Burnaby site which hosted national soccer teams including Spain, Scotland, Brazil, and others. The event was broadcast to nearly 1 billion viewers by host broadcaster CBC. SW worked closely with event organizers, FIFA representatives and the host broadcaster to transform Swangard Stadium into a world class pitch.
SW provided a large outdoor LED screen, over 100 LCD and plasma monitors, with a new 12 channel broadcast video network system, a complete stadium sound system, multi channel broadcast network and more. SW president Cal McCarthy commented that, "…the FIFA U-20 World Cup was one of the largest event productions in company history… the event delivery was flawless and we are extremely pleased with the outcome. FIFA demanded a new standard and our team delivered"
Services SW Audio+Visual provided at this event:
Sound and Concert Performance Sound
Video + Broadcast Support
Media Service & Press conference services
Posted in Audio Visual Event Services, Big Screens, Burnaby, LCD Monitors, LED Big Screens, Lighting, outdoor big screens, pa sound, Plasma Monitors, Press Conferences, Show Portfolio, Sound, Sporting, Sports, Televisions, Video Players & DVD Players, Temporary Power and Electrical, Video and Broadcast Support, Video Broadcast Equipment | No Comments »