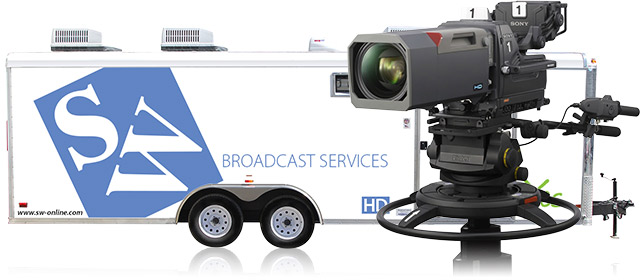 Video Broadcast Equipment Rentals
A full complement of cameras, switching equipment & accessories for live events is available directly from our inventory.
SW ORCA Video Production Broadcast Truck
Orca is suitable for a wide range of applications and events including:
Division I, II, and III college sports events
High School sports events
Local and regional professional sports teams
Political events
Corporate events
Live concerts and rallies
SW VP24 Video Production Broadcast Trailer
Ross Carbonite 24 input 2 M/E Broadcast Switcher
Newtek 3play slow motion replay system
Dual Multiview displays
On Screen graphics: Titles, Video Playback, Clocks, Scorebug
Roland M-200i 32 Channel Digital Audio Mixer
Teradek Slice Encoder for Live HD webcasting (dedicated high speed internet connection required)
AJA KiPro Broadcast HD recording
Clearcom Intercom System
Flypacks
Video flypacks are fully packaged solutions in cases with switching, multi-viewers, matrix routers, audio distribution (including embedders and de-embedders), video recorders and other peripherals.  Call SW today for details on our flypacks.
Video Switchers/Mixers
Ross Carbonite 24 input 2 M/E HD Broadcast Switcher
Roland VR50 HD AV Mixer
Panasonic HMX100 HD Switcher
Analog Way Pulse HD Presentation Switchers
Grass Valley Indigo AV Mixer
Sony Anycast AV Mixer
More switchers available, please call for a detailed inventory.
Cameras
Panasonic AG-HPX300 & 500 series HD broadcast cameras
Sony XDCam series HD cameras
Sony DXC Series Studio Style Cameras with CCU
Sony HXC Series Studio Style HD Cameras with CCU
Lipstick & POV Cameras
More cameras available, please call for a detailed inventory.
Accessories
Super zoom Box Lenses
Robotic Camera Heads
Folsom Image Pro 2 Scan converter
Tripods – various styles/sizes
Multiviewers
Teleprompters
Newtek slow motion replay systems
Webcasting devices – Teradek Slice & Cube Encoders
AJA KiPro Broadcast HD recorders
More accessories available, please call for a detailed inventory.
Video Lighting
Kino Flo
HMI
Arii Fresnel
LED
SW hast a vast lighting inventory, please call us for more details.
Some Clients who've used our Video Broadcast Equipment…
Vancouver Whitecaps FC2 Football Club
Kelowna Rockets WHL Hockey Club
Victoria Royals WHL Hockey Club
Live Nation
Bill Clinton's Visit to Canada 2006
BC Tourism Conference
VGH UBC Foundation
BC Hospitality Conference
Telus Skins Game
Please call toll-free 1-800-909-7928 for our most current pricing.