Meeting Rooms, Social Events and Business Travel
Parkside is an unforgettable boutique meeting and reception venue in downtown Victoria, featuring 126 fully-equipped one and two bedroom suites. Stylishly designed to bring the outside in, Parkside's peaceful atmosphere and inviting gathering spaces are perfect for meetings, workshops, retreats, weddings and receptions.
For special events and group functions, Parkside offers a variety of options in a stunning and luxurious urban setting, customizing each event to suit our guests' individual needs. Let us take care of all the details for you.
SW Audio + Visual at the Parkside Victoria Resort and Spa
Our in house AV team at the Parkside Victoria Resort and Spa takes the utmost pride in  providing advice, products and quality of services which guarantee an outstanding AV presentation plus complete peace of mind.
Named the Victoria Chamber of Commerce's Business of the Year for 2009  and with a comprehensive network of professional audio visual equipment and large team of qualified technicians, SW Audio Visual is British Columbia's most trusted audio visual services company.
SW can deliver your AV and room decor needs for:
Meetings
Conferences
Conventions
Tradeshows
Gala events
Presentations
Awards dinners
Community events
Press conferences
Entertainment
Please contact us with any questions you may have.
250-220-2367
info@sw-online.com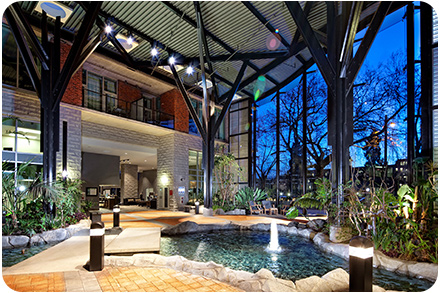 Facilities
The Oak Bay Meeting Room
The Oak Bay Executive Boardroom is 440 sq-ft and can accommodate 20 people.
The James Bay Meeting Room
Meeting room is 1,037 sq-ft and can accommodate up to 60 people.
Penthouse City Club lounge
Chic, refreshing interiors atop the eighth floor with spectacular ocean and city panoramas.
Roof Top Gardens
Are home to a variety of native plants, flowers and trees amongst chic designer outdoor living space with spectacular views of downtown Victoria and St. Anne's Academy.
Private 29-seat movie theatre rental
Casual and comfortable atmosphere, plush oversized seating, 132-inch screen & surround sound. Next to the meeting rooms.