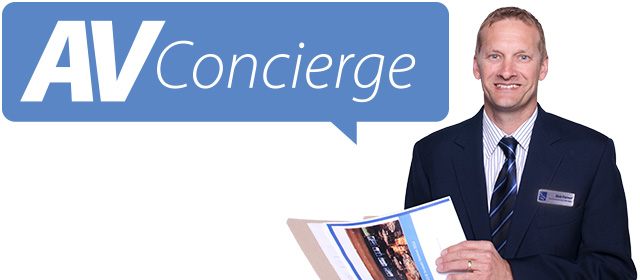 AV Concierge provides your meetings with a dedicated a/v representative that is completely focused on ensuring excellence in event execution. Your AV concierge is your dedicated, on-site representative focused on ensuring your presenter's needs and your meetings objectives are met.
The primary role of the Audio Visual Concierge program is to ensure that the high production standards developed by SW Audio Visual are maintained through your event. The AV Concierge will be highly visible to you, your presenters and hotel staff, providing a single point of contact and being immediately accessible for any concerns or questions that may arise.
Your AV concierge is not another A/V technical technician but a experienced project leader providing over-site and guidance to the SW Audio Visual technical team.
Your SW AV Concierge is committed to anticipating your event needs by providing you with a dedicated contact before, during and after your meetings.
AV concierge is like adding a staff member to your events day team, providing you with a knowledgeable trusted team member dedicated to your success.
At SW Audio Visual, we create events unlike any other. By mixing creative people with innovative technology, all with a dedicated commitment to the highest client service experience we are" British Columbia's Most Trusted".