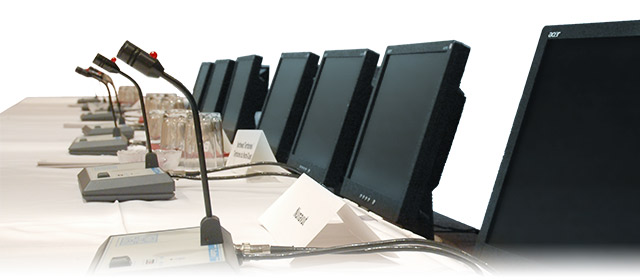 Conference Microphone Systems are designed specifically for conference meetings, government, councils, training and educational venues, hotel conference rooms and company boardrooms, so all individuals at the table can be heard. The system is controllable by the master unit and can be configured up to 150 microphones simultaneously.
Conference Microphone Systems
Bosch Conference System
Microphones with flexible stem and Light Ring
Compact and attractive delegate unit
Built-in loud speaker
2 headphone sockets with built-in volume control
Integration with simultaneous interpretation systems
Works with infrared radiators
Some Clients who've used our conference microphone systems…
Government of Canada
Government of British Columbia
IFFO – Marine Ingredients Organization
FIFA 2015 Women's World Cup
Please call toll-free 1-800-909-7928 for our most current pricing.