Sometimes, you need more than a microphone to get your message across. Sometimes, you need to put it on a big screen, with lots of lights!
LED screens can serve many different purposes. They can be utilized to show concert attendees at the back of the venue what's happening on stage, to offer a backdrop behind a keynote speaker or to showcase media programs that represent your brand. In each of these cases, LED screens can enhance the experience.
SW Event Technology has a vast inventory of LED video displays that are large, bright and rich in colour. Whether your event is in bright daylight, direct sunlight or a dim conference hall, we have LED screens in a variety of sizes that can make a huge impact and ensure the perfect viewing experience for your audience.
Our LED screens offer a thin footprint, leaving valuable space for your audience. We offer LED screens with pixel pitches in 3mm, 5mm, and 10mm.
Dynamic Advertising Opportunities
A well-attended event is a prime place to advertise, which means that it is a prime place for event organizers to generate extra revenue. SW Event Technology can offer a dynamic LED signage system to display logos and ads from advertisers, allowing you to bring in more revenue and showcase your sponsors.
Our dynamic LED signage system can play ads with full motion video and animated graphics, with custom screen shapes and orientations.
This type of signage allows advertisers to showcase more than just their logo and tagline. It's an opportunity for them to connect with your event's audience and share their own message.
Multi-Function Mounting Frame
With our modular LED wall combined with multi-function mounting frames there are endless possibilities of configuring and utilizing LED displays at your next event.  
Highest Resolution HD Images

Angle bracket options for curved screens
Angle bracket options for curved screens
Cost Effective Display Solution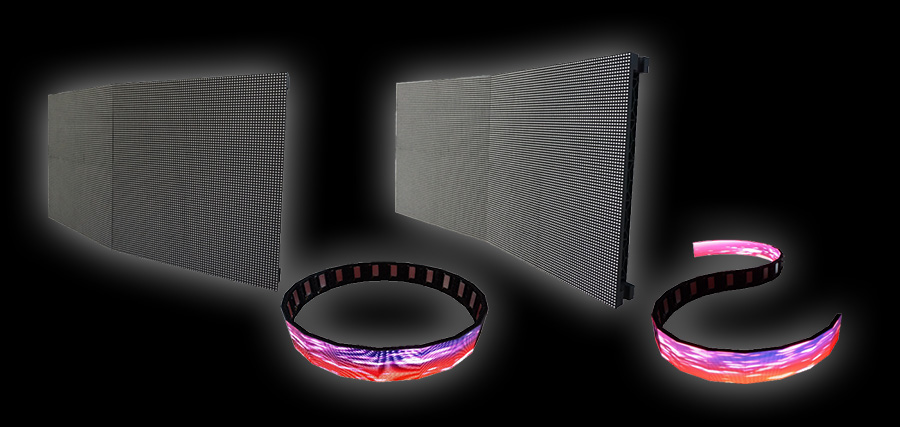 Standard 16:9 video screens of any size

Panoramic super wide LED wall backdrop for your stage

Free standing LED towers for the sides of entrance ways

Horizontal ribbon boards to display ticker-style information

Curved panoramic LED presentation wall

Dynamic advertising boards on the edge of sports fields

Portrait IMAG screens for concerts
For inquiries about LED Video Screens
call toll-free at 1-800-909-7928
Have a Question?
Not sure where to start? Contact us using the form below or by calling 1-800-909-7928 and we'll do our best to answer your questions.